Home » Posts tagged 'First Responder to EMR'
Tag Archives:
First Responder to EMR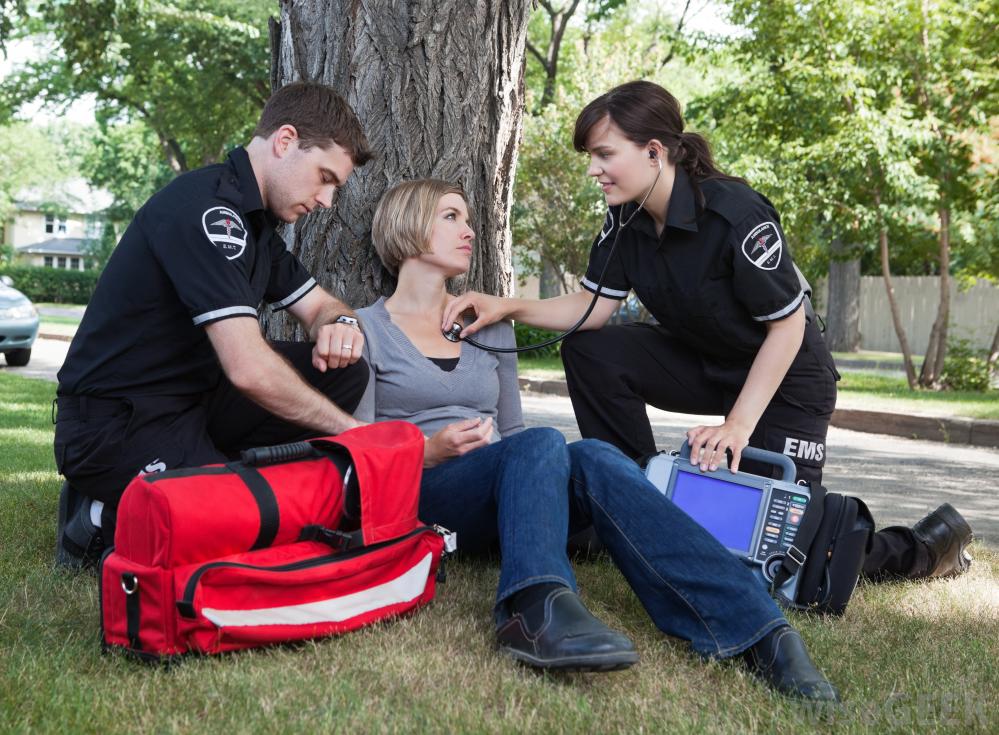 This is one of the most frequent questions our clients ask us these days, and our answer is almost always a resounding yes!
A little bit of background…
In British Columbia the First Responder program was started almost 30 years ago, with the goal of providing consistent medical training to fire department first responders who care for patients while ambulance paramedics are en route to the call.  Over the years the program has changed here and there, but it still focuses on providing high quality patient care by teaching the following things:
The assessment and management of an emergency scene.

The identification and treatment of life threatening injuries in the primary survey.

Airway management skills needed to clear and maintain a patient's airway;  including manual manoeuvres, suctioning, foreign body removal techniques, and the use of basic adjuncts like oral airways (OPAs).

The assessment and management of a patient's respiratory system, including the application of oxygen as needed and supporting a patient's ventilations with a bag valve mask when appropriate.

The assessment and management of a patient's circulation, including the application of CPR and the use of an AED as needed.

Hemmorhage control skills, including the use of proper pressure and/or the rapid application of a tourniquet.

Patient positioning strategies.

An ongoing patient assessment via the secondary survey, including basic history taking, vital sign assessment, and the performance of a detailed physical exam.

Basic first aid skills for things like burns, minor wounds, fractures, etc.

Proper communication with ambulance paramedics when they arrive on scene to assume care of the patient (the "hand off report").
The First Responder program is still used by the overwhelming majority of fire departments in BC, as well as by other emergency response groups.  We have worked with thousands of first responders over the years, and continue to be strong supporters of this program.  
How does EMR differ?  
Emergency Medical Responders are the first level of provider within the national scope of practice that are trained to assess a patient on scene, provide care in a more enhanced fashion than first responders can, package the patient appropriately for transport, continue assessing and treating the patient in the back of the ambulance while en route to the receiving facility (ie, the hospital) and, finally, to provide a detailed hand off report to the nursing staff at a receiving facility (ie, the hospital).
To go back to our original question then:
Why should I upgrade to Emergency Medical Responder?
The obvious answer is that EMR allows you to provide a higher level of care to your patient.  This is primarily through enhanced assessment skills and a better understanding of the pathophysiology that is at play when a patient is injured, but EMR also adds several new treatment options to a first responder's toolkit.
In the FR to EMR bridge course you will learn:
Enhanced patient assessment skills, including pulse oximetry (which is still not taught in all FR courses), blood pressure assessment (which is also still not taught in all FR courses), chest auscultation (listening to the lungs with a stethoscope), blood sugar assessment with a glucometer, etc.

Enhanced airway management skills through the use of new tools, such as nasal airways.

Basic medical protocols for the safe administration of drugs like Nitro, ASA, Entonox, Glucose, etc.

New treatment options for injuries, such as pelvic binding, lower limb splinting, traction splinting, etc.

IV maintenance skills, designed to allow the EMR to assist paramedics more effectively on scene.

Enhanced education in areas such as pharmacology, pediatrics, obstetrics, etc.
In short, the EMR bridge course "fills the gaps" if you will, both cognitively and through providing the first responder with new treatment skills.
From a career training perspective, many fire departments are now moving to the Emergency Medical Responder (which is excellent), and EMR is also a pre-requisite for those looking to become paramedics.  EMR is a valuable certification to have on any resume or anybody looking to enter the safety or EMS professions.
How do I upgrade my FR to EMR?
At Priority Care First Aid we offer the First Responder to EMR bridge course in a six day format, both in our classroom in Langley and throughout the lower mainland in group course settings.  Our face to face education is supported by detailed reading lists and online practice exams, which allow students to test their progress during a course.
To learn more about the First Responder to EMR Bridging course click HERE.
And, to view upcoming course dates, you can click HERE.
We hope that you found this article helpful!
Best wishes,
The Priority Care First Aid Team