The Paramedic Association of Canada, in conjunction with the Canadian Medical Association, defines 4 levels of pre-hospital EMS care:
Emergency Medical Responder
Primary Care Paramedic
Advanced Care Paramedic
Critical Care Paramedic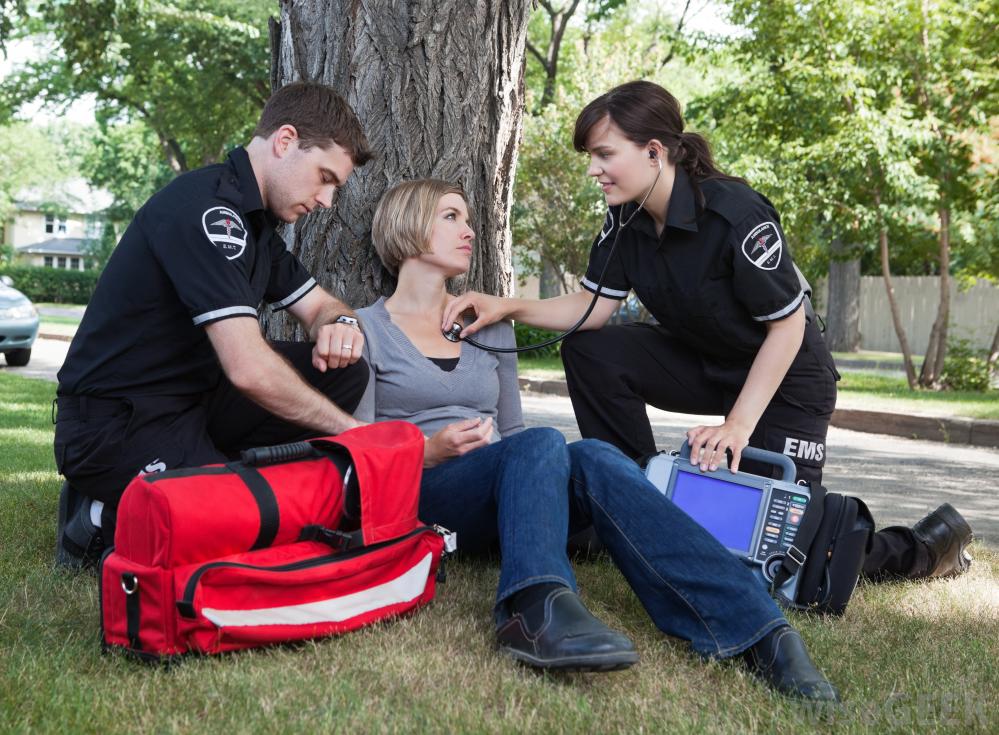 In British Columbia Emergency Medical Responders are often the first professional health care providers that the patient may encounter. Emergency Medical Responder is the base level of care provided by the BC Ambulance Service (BCAS) in rural and remote areas, and is the starting point for a career in paramedicine. In these areas Emergency Medical Responders, working for the ambulance service, provide life saving aid and transportation to the hospital.
EMRs can also be found working throughout BC providing event coverage, in industrial settings, for some fire departments, in the oil patch, and for some search and rescue organizations.
Emergency Medical Responder is also the pre-requisite to furthering your education as a primary or advanced care paramedic.
About the Emergency Medical Responder course:
Your Emergency Medical Responder course will be taught by paramedics with decades of experience. The course provides a mix of lecture, group activities, practical skill stations and practical scenario practice, allowing you to learn and practice EMR skills while working with pre-hospital care providers (paramedics) who have done thousands of 911 calls.
During the course you will work with the same equipment currently used by providers in British Columbia's 911 system (fire fighters and paramedics from the BC Ambulance Service). This will allow you to gain comfort and experience using the same pre-hospital equipment you will use when employed as an EMR.
By the end of this course you will feel confident responding to care for car accident victims, people experiencing heart attacks, patients with fractures and spinal injuries, unconscious diabetics, and many more!
What will I learn about?
The Professional Emergency Medical Responder
Anatomy & Physiology
Prevention of Disease Transmission
Managing the Emergency Scene
Pharmacology (including the administration of Entonox for pain management)
Patient Assessment (primary and secondary survey, including blood pressure assessment, pulse oximetry (SPO2 monitoring), and chest auscultation)
Airway & Ventilation (including the use of oral airways, nasal airways, suction, oxygen therapy, pocket and bag valve masks)
Respiratory Emergencies (Asthma, COPD, bronchitis, emphysema, pneumonia, CHF. Also included is assisting with patient medications for asthma/COPD and anaphylaxis)
Circulation Emergencies (including care of the angina and heart attack chest pain patient, assisting with patient medications (nitroglycerin and ASA) for chest pain, care of the stroke patient, and CPR and AED use)
Shock & Bleeding (including tourniquet application)
Head & spine injuries (including spinal grips, spinal rolls, helmet removal, hard collar application, use of the spine board, clamshell, and KED for spinal immobilization)
Chest, Abdominal, and Pelvic Injuries
Fractures & sprains (including use of the Sager traction splint)
Soft Tissue Injuries
Sudden Medical Emergencies (fainting, seizures, and diabetes. Included is the use of a glucometer and oral glucose for managing the hypoglycemic diabetic patient)
Environmental emergencies (heat and cold emergencies)
Poisons
Special Populations
Childbirth
Crisis Intervention
Reaching & Moving People (including an ambulance orientation and use of common patient movement devices such as stretchers and stairchairs
Multiple Casualty Incidents
Course Delivery Format:
The EMR course is 120 hours in total (80 hours of face to face classroom time, 40 hours of pre-read and home study).
Pre-requisite to take the Emergency Medical Responder course:
Current Standard First Aid with CPR-C certificate (or higher).
Course Completion Requirements:
Successful completion of the Canadian Red Cross Emergency Medical Responder Course is based on 100% attendance, completion of two practical scenarios (one medical and one trauma), and a 75% or higher mark on a knowledge examination.
Upon successful completion of the Canadian Red Cross Emergency Medical Responder course you will receive Red Cross certification that is valid for 3 years and is nationally recognized.
About Licensing:
In order to practice professionally as an EMR in the 911 System you must obtain EMR certification, and then successfully examine and obtain a license to practice at that level from the provincial body that governs pre-hospital care in your province. In British Columbia this body is the Emergency Medical Assistant's Licensing Board (the EMALB).
More information on becoming licensed as an EMR in BC can be found on the Emergency Medical Assistant's Licensing Board's website HERE.
The process to become licensed in BC and eligible for employment in the 911 system is essentially as follows:
Successfully pass the Emergency Medical Responder course with Priority Care First Aid
Once certified, apply for and successfully pass the EMALB EMR Examinations (2 practical scenarios, one multiple choice medical exam, one jurisprudence exam)
Apply for an EMR license with the EMALB
NOTE: The EMALB Licensing exams are separate from your Emergency Medical Responder course. Any costs associated with obtaining your EMALB license are separate from the course fees paid to Priority Care First Aid for your EMR course.
 How to register for an Emergency Medical Responder (EMR) Course:
We do not currently have any public enrolment full EMR courses scheduled, however you can easily obtain your EMR certification by attending one of our First Responder courses, and then completing the Emergency Medical Responder Bridging Course.
Our EMR courses are also currently offered on a group course basis only, and are available to groups of 8 or more throughout the Greater Vancouver area (Vancouver, Burnaby, New Westminster, Port Moody, Coquitlam, Port Coquitlam, Maple Ridge, Langley, Cloverdale, Surrey, White Rock, Delta, Richmond, North Vancouver, West Vancouver) and the Fraser Valley (Mission, Aldergrove, Abbotsford, Chilliwack).
To book an EMR course for a group of 8 or more please CONTACT US.