Canadian Red Cross Emergency First Aid is an 8 hour course that can be taught over 1 full day, or during 2 evening sessions.
Group and private courses can be scheduled flexibly to meet the needs of the client.
What will I learn about?
The Red Cross
Preparing to respond (Good Samaritan Act, prevention of disease transmission, first aid kits)
The EMS system
Patient assessment (check, call, care)
Managing airway emergencies (choking in babies, children, adults)
Managing breathing emergencies (asthma, anaphylaxis, hyperventilation, respiratory distress, respiratory arrest)
Managing circulation emergencies (angina, heart attack, stroke, deadly bleeding, shock, cardiac arrest)
Cardiac arrest management – CPR & AED (baby, child, adult)
Performing wound care
CPR-C is included in this course, providing certification in CPR & AED skills for babies, children, and adults.
All of our First Aid, CPR and AED courses follow the latest standards put out by the International Liaison Committee on Resuscitation (ILCOR), the Canadian Red Cross, and the Heart and Stroke Foundation of Canada (HSFC).
Who is Emergency First Aid appropriate for?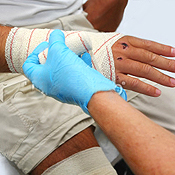 People with general interest in first aid
People who need to learn to treat life threatening conditions
Fitness instructors
Some Federally regulated job sites
What do I need to do to pass?
Successful completion of the Emergency First Aid course is based on 100% attendance, ongoing skills evaluation throughout the course, and a 75% or better mark on a knowledge examination.
How much does the course cost?
The Emergency First Aid course costs $105 per participant, which includes all taxes and a full colour manual (digital).
How long is the certificate good for?
Canadian Red Cross Emergency First Aid certification is valid for 3 years.
How do I register for an Emergency First Aid Course?
Our Emergency First Aid courses are currently offered on a group course basis only, and are available to groups of 8 or more throughout the Greater Vancouver area (Vancouver, Burnaby, New Westminster, Port Moody, Coquitlam, Port Coquitlam, Maple Ridge, Langley, Cloverdale, Surrey, White Rock, Delta, Richmond, North Vancouver, West Vancouver) and the Fraser Valley (Mission, Aldergrove, Abbotsford, Chilliwack).
To book an Emergency First Aid course for a group of 8 or more please CONTACT US.