Priority Care First Aid is proud to offer the Canadian Red Cross First Responder course and EMALB licensing exams, and many other courses, within the Greater Vancouver area and in the Fraser Valley.
Our classrooms in Burnaby and Langley provided training opportunities in the following communities: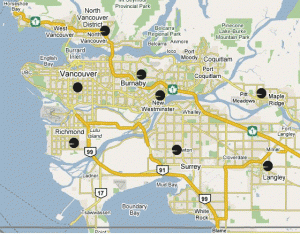 The Red Cross First Responder course is nationally recognized, and is recognized in British Columbia by the Emergency Medical Attendants Licensing Board.  This certification and license is what most major fire departments (such as Vancouver Fire and Rescue) require their applicants to have when applying.
Students who successfully complete their First Responder course with Priority Care First Aid receive 3 year national certification from the Canadian Red Cross, AND are provided an opportunity to take the EMALB licensing exams at NO EXTRA COST!
For more information on our Greater Vancouver First Responder courses please click HERE.